Remote working has never been so popular: Covid-19 has prompted many organisations to make the move to virtual working, with almost half of employees in the UK doing some work remotely in recent months. For many employees, it is the first time they have worked remotely and for many people managers, managing and leading a virtual team is a new experience.
Five years ago, around 40% of employees worked remotely at least once a week – usually from home – and one in ten people were full-time homeworkers. Now, the latest government figures show that in April this year, 46.6% of employees worked at home during the month – 86% as a direct result of the coronavirus pandemic.
While there are plenty of benefits to remote working – including higher productivity, lower stress levels and a better work-life balance – there are also challenges in managing a virtual team.
Motivation can suffer as employees adapt to a different work environment, and isolation can become an issue. New routines and challenges at home can also interfere with working processes, and impact communication as a result.
As we navigate the 'new normal', a high-performing virtual team is essential to building a resilient organisation capable of weathering this storm – and those to come.
Tips for managing a virtual team
Each team is different and, as such, may face different challenges. We've put together some pointers that cover the key principles of building and managing a high-performing virtual team in the context of common challenges organisations may face, either now or in the future.
Take a look at our tips for managing your virtual team and find out how to overcome the challenges of managing a virtual team during the Covid-19 pandemic and beyond.
Virtual team communication
Frequent, effective communication helps build cohesion within teams and ensures everyone feels included. It can be difficult to communicate in person when you're part of a remote team, so schedule in some regular time for the team to bond via group calls or video conferencing.
Make the most of the available software to encourage group communication via collaborative platforms like Slack or Microsoft Teams, and focus on how you express yourself if communicating with words via email, remembering that tone of voice doesn't come through as easily without non-verbal cues like body language. For more ways to enhance virtual team communication, check out this HubSpot post.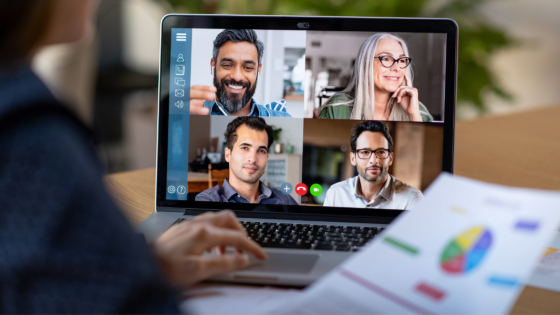 Virtual team building
How to motivate virtual team members is a common question among those who are new to managing their team remotely. Virtual team building can help boost morale and foster team spirit, creating trust and making each team member feel valued.
Make time to check in with each team member regularly, ask about their welfare and show genuine empathy. It's also worth considering some fun remote activities, rewards and other ways to boost camaraderie and keep everyone feeling motivated.
Virtual team management
Information sharing is fundamental to successful virtual team management, so it's worth choosing a centralised access point for finding and using data while working remotely. There are lots of cloud-based software options to consider – choose one rather than working across several to avoid confusion.
Workers need easy access to a system they can use effortlessly and efficiently, while managers need software that tracks progress and allows for real-time analysis to measure success. Take a look at the software available, such as Google Drive and DropBox, and weigh up how the features will work for your team.
These are just a few tips to get you started; there are lots of other factors that come into play when developing a high-performing virtual team – let's explore them together.
If you work in a people management role and want to find out more about how to manage a virtual team, how to improve your team's performance and the best ways to look after your employees' wellbeing, we can help.
Delphinium specialises in building strong teams and effective leaders – we offer remote training in virtual team management, designed to cover all the fundamentals of remote team building, performance and wellbeing.
Contact us to discuss our workshop on Managing Your Virtual Team, or find out more about our leadership and management training and learn how we help strengthen teams and boost profitability.
Gemma Rolstone | Published 4th September 2020