Are you looking for a way to give your small business an edge? Investing in a management and leadership training course may be the answer. Investing in the training and development of future leaders can greatly benefit small businesses by improving company performance, achieving goals, and retaining employees.
As your company grows, so will your need to appoint people to management roles. Yet, particularly at the outset, they will need significant support, especially if they are new to a management role. Managing people is a challenge and requires a different set of skills. For supervisors and line managers to be effective in the role, they will need to develop their leadership and people management skills. But do you have the time and skills to devote to them and provide the necessary support?
Investing in a management development programme can ease the transition and ensure your managers receive the support and development they need while allowing you to concentrate on other priorities – one of the many benefits of investing in a management training programme. Now, let's explore nine other benefits.
1. Building a strong leadership pipeline
A management training programme can aid in developing rising leaders. The training equips managers with the knowledge and skills necessary to take on leadership roles within the company. This helps build a strong leadership pipeline, ensuring you have access to a talented pool of potential future leaders. Small businesses (who may struggle to hire outside leaders) will benefit significantly from developing leaders within the company.
2. Enhanced communication between management and employees
Effective communication skills are crucial at all levels. A significant benefit of management development programmes is their capacity to enhance managers' communication abilities and close the communication gap between team members and management. They develop active listening, effective questioning, and reflecting techniques. Improving communication skills enables managers to better empathise with their team's needs and perspectives, resulting in better decisions, higher morale, and a positive work atmosphere. This leads to more employees feeling supported and respected and less likely to leave their jobs.
3. Increased ability to resolve conflicts
Small business owners can benefit significantly from improving their managers' abilities to handle and resolve disputes effectively. Any workplace will inevitably see conflict, but if it is not managed correctly, it can cause problems.
A leadership development programme also equips them with conflict-resolution tools to strengthen relationships and boost productivity. Techniques for conflict resolution can also help settle disagreements quickly and effectively while avoiding long-term damage to the company.
4. Encourages continuous growth and development
Management training ensures staff have the tools and knowledge to continue developing their leadership and management abilities and encourages continuous growth. Those who receive leadership training are better equipped to take on additional responsibilities, adapt to change, and tackle performance issues quickly and effectively. Additionally, managers encourage the growth and development of the rest of the workforce by leading by example.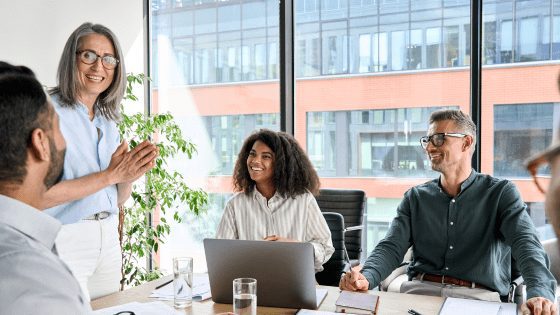 5. Boosts employee efficiency and productivity
Increasing efficiency and productivity is another significant benefit of a management training programme. Managers who receive training are better equipped to establish objectives, make informed and confident decisions, and delegate tasks effectively.
When they understand their roles and contributions, they perform better and increase productivity, helping the company achieve its objectives and stay competitive.
6. Encourages stronger collaboration between employees and managers
Greater collaboration among employees and managers is another benefit of having a management training course in small businesses. Those receiving management and leadership training implement strategies to encourage greater collaboration, fostering creativity and innovation.
Greater collaboration also contributes to a more positive work environment, and employees feel valued and supported. By working together, your entire workforce can share ideas and work collaboratively to achieve the company's goals more quickly.
7. Improves managers' decision-making skills
A management training programme also has the essential benefit of enhancing managers' decision-making skills. Managers who have undergone leadership and management training are better equipped and more confident in making decisions and managing change.
Undergoing leadership and management training aids managers in comprehending the value of making well-informed decisions and how important they are to the business's success.
8. Greater work quality
A management and leadership training course will help your managers develop their coaching and feedback skills, increasing their confidence and resulting in managers effectively tackling poor performance and developing their team members. This leads to improved performance and high quality of work across the team.
9. Increased employee engagement and reduces turnover rates
Confident and capable managers who handle challenges effectively and support their teams create a happier, more creative work environment.
Additionally, as management training provides support beyond methods of improving job performance, managers feel appreciated for their hard work and have further opportunities for growth.
In summary, investing in management training courses and programs can greatly benefit small businesses. These courses allow managers to develop essential skills, such as enhanced communication and conflict resolution abilities necessary for successful staff leadership.
Additionally, it can lead to increased production, efficiency, and teamwork, as well as an overall increase in staff morale and a reduction in attrition rates. These benefits can help you to reach your company goals and stay competitive in your industry.
If you're interested in discussing how Delphinium can assist you in developing a management training course or programme, contact us. We provide both standard and customised programs to meet your unique requirements. You can also find details of our flagship programme, the Middle Manager Accelerator, on our website.
Author: Gemma Rolstone | Published 24th April 2023.